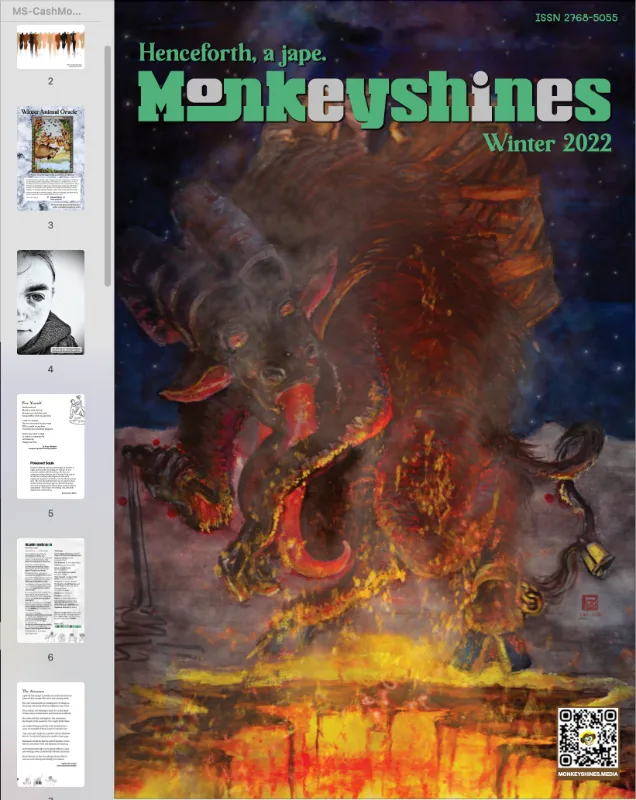 Winter's bite is upon us, and our first issue of the new year delivers the malicious Krampus to your mailbox. Inside there is some comfort, some mysteries, a bit of danger, and a whole lot of talent. It's 2022! Our pool of contributors continues to grow, which is fantastic and most welcome!
Along with those first-timers, we have the conclusion to the serialized story from Estelle Clark, and we're deeply grateful for her dedication and hard work. PLUGO continues his run of covers with an original painting first published in this very issue! We're also giving him a special spread announcing the Kickstarter for his graphic novel, A Tiger's Tale.
We have printed issues to send to you, too, if you're not on our mailing list. Free! No shipping or handling costs, no funny business, just pure Monkeyshines delivered to your mailbox.
Information about our awesome group of contributors can be found under the masthead.
In this issue:
A Very Special Episode Insert
Tales as Cold as Time
From the Bowels of Heck
The Big Chill
The Comfy Chair