Our Autumn 2022 issue is out now!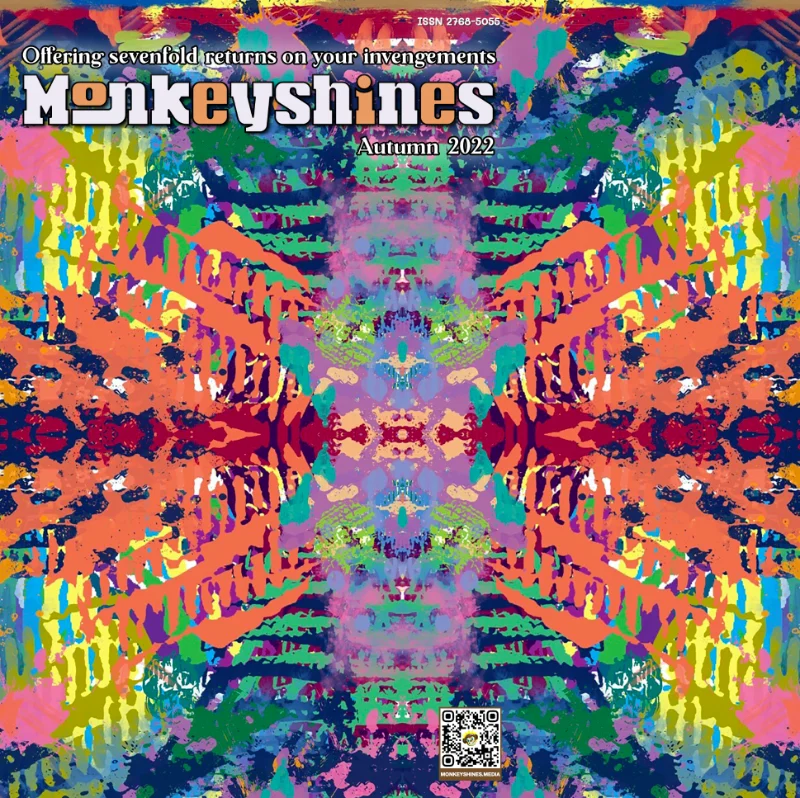 Shorter days, cooler temps, and the freshest content in the zine! The printed version of Monkeyshines, Autumn 2022, is available for your reading pleasure. Want one delivered to your home or office? Subscribe! The digital version is ready to download to your favorite reading device, or enjoy it as we update it on this very website.
Call for submissions for our Winter 2023 issue
We're now taking your submissions for our Winter 2023 issue! It's never too early to submit your creative work to the editors. Submission deadline for the Winter Issue is Thursday, December 15, 2022. We're looking forward to your contributions!
Support our cause
Monkeyshines is delivered free to our readers, and your support helps keep it that way! We are published by a New York state non-profit and your donations go towards printing and shipping our zine. You can support us by donating through our Ko-fi page. Ko-fi gives us 100% of money donated, and your donation is tax deductible!
Amazon Smile
Shop at Amazon while supporting our cause at no extra cost to you! Amazon Smile will donate to our charity if you shop through our link or add us as your charity of choice when shopping through Amazon Smile.
It's printed. On paper.
Remember paper? Remember holding something made of paper in one hand and reading while drinking a hot beverage in the other? Remember how paper feels and smells? Inks that could smear and pages that could dog-ear? Read it once, and it looks like you've read it. You could leave it on a seat in a public place and be assured that someone would take a look at it, too, before eventually going in the trash. It's okay. It's ephemeral but lasts forever in your head. Break the spine, mark it up with highlighters, make rude pencil drawings in the margins. It's okay. It's paper, and it'll still convey the stories we write in it.
Crease it. Smear the ink. Or keep it perfect. Let someone "borrow it" when you know you'll never see it again. It's paper. And we want to share it with you.
Limited run
The issues are available in digital and web formats, but printed copies are very limited. Issues are first distributed to our contributors, to our patrons, then to subscribers, and finally to a few distributors. There is no cover charge, no fees, just a free zine.
Want to get your own paper copy of our Autumn 2022 issue? All you have to do to get one is ask! (And send us a mailing address.)