Skateboard Time Lapse video
This is a time-lapse video of PLUGO painting the skateboard deck where the cover of our Autumn issue is taken from. Mitch Marcus composed the soundtrack and has graciously allowed us to host the score as a PDF.
Origins of This Project
From PLUGO: There's a bit of a winding story behind what inspired this piece. To keep it short the artwork itself, (a painted skateboard) was a commission born of reconnecting with old friends who had moved away long ago — "she likes skulls." Over the course of the 2020 covid crisis there were probably a lot of folks realizing the value of reconnecting via a long postponed video-call. Seeing the piece through those lenses, the production of a video and the composing of an original score for it seems like a secondary (or tertiary) permutation of that same "it's been so long" reflex — in the midst of such intensely dire times.
So after putting off the naming of it for some time, the title for the piece became rather obvious — THAT LONG AWAITED COLLABORATION
Mitch's Score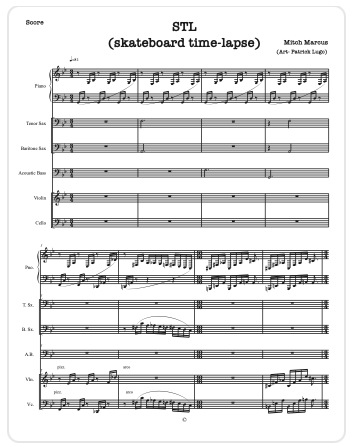 Mitch graciously composed the soundtrack into a score that can be downloaded for your enjoyment and to test your musical chops. If you play it and record it, we'd be happy to share it, or, if you post it on a social media site with the hashtag #monkeyshineszine, we'll give you a shout out in an upcoming issue.
About Mitch Marcus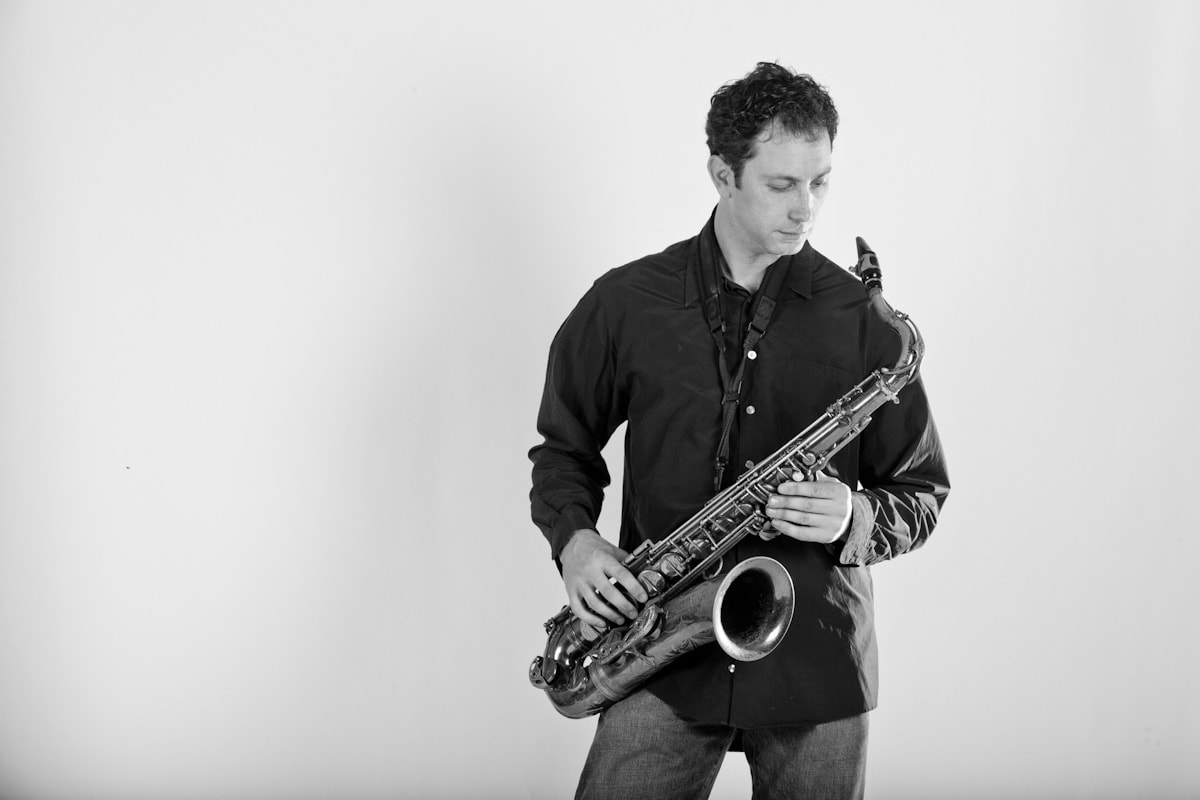 Native New Yorker Mitch Marcus is a multi-instrumentalist, composer, and arranger, who primarily plays saxophone and piano/keyboards, and clarinet. "His commanding touch and his startling use of the various sounds of bebop — wobbly, sweltering, and explosive — are unmistakable." — SF Chronicle
Mitch is an active performer who plays and tours regularly with many groups whose styles span a wide range of musical genres and styles from progressive jazz to afro-beat and the folk music of 60s icon, Donovan. He can be seen playing with The Mitch Marcus Quintet, Molly Tigre, Invaders Trio, Dancin' Phools (Steely Dan, Phish, Zappa tribute), Sam Minaie's Trio Heyo, Victor Baker Quintet, The Get It, Aphrodesia, The Japonize Elephants, Jaan Gaati Band, Stanley, Kaylin Clinton, The Humdrums, as well as Aaron Freeman's band (of Ween), Marvelous Clouds tour, Donovan, and Hush the Musical, and The Dooples, all of which he is/was Musical Director.
Mitch is a prolific composer writing extensively for his own jazz quartet in addition to the Mitch Marcus Quintet, the MMQ + 13 big band, for which he won a "Subito" grant from the American Composer's Forum. Mitch has also been commissioned to write compositions for the DeYoung Museum in San Francisco, Oakland's 'Counterpointe' dance company, several independent films, and recently was given the honor of opening the SF Jazz Center's Joe Henderson lab, performing an expansive concert of Henderson's music.
Mitch holds a Bachelor of Music in Jazz Studies from the Indiana University School of Music at Bloomington, where he studied with David Baker and Tom Walsh.
In addition to performing and composing, Mitch accompanies company class for the Alvin Ailey American Dance Theater and the Mark Morris Dance Group and while living in the SF Bay Area, frequently performed the National Anthem at Oakland A's and Golden State Warriors games.
Mitch happily and humbly endorses Vandoren saxophone and clarinet products and plays: Tenor Saxophone; a Vandoren T-10 mouthpiece with V-16 3 reeds, Alto Saxophone; a Vandoren A-6 s mouthpiece with V-16 3 reeds, and Bb Clarinet; a Vandoren CL-5 mouthpiece with V-12 3 1/2 and Rue De Lepic 3.5 + reeds.
Mitch's Upcoming Dates
Visit Mitch's site for upcoming performances.